ABDL Mommy Phonesex
May 5, 2013
Mistress V's devious femdom slave's
May 6, 2013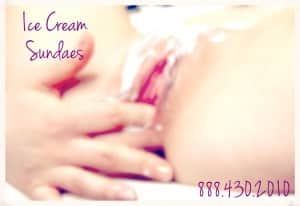 This week I got to spend lotsa time with my T-girl Mommy. She's sooo much fun!! Last night she asked if I liked ice cream sundaes. I squealed that of course I love sundaes!! They're so so yummy and Daddy almost never lets me have them 'cause he says I get too hyper! Well, guess what I found out? Ice cream sundaes with my tranny Mommy are even yummier and more fun than they are with Daddy!!
Mommy said she was gonna make me a banana split! I waited at the table while she got it ready. Then when she brought it over, my eyes almost popped out of my face!! She was holding the plate down low, and on it was a big scoop of ice cream, whipped cream, sprinkles, cherries and chocolate sauce. And right in the middle of every thing was Mommy's big hard cock!! She sat down in front of me with the plate between her legs and said "Eat up!!" I dove into my yummy sundae and slurped up every creamy sweet drop! I think Mommy really like it 'cause towards the end she grabbed the back of my head and kept my glued to her banana hehehehe!!!
When I was all done she said it was her turn. I was confused about what she meant… but then she put a mat down and told me to lay down with my legs up in the air! Mommy filled my pussy with all kinds of nummies! They melted and dripped all over me and made me all sticky and messy. Mommy ate me up sooo good and then she put her big cock in my messy pussy!
Ooooh ice cream sundaes with Tranny Mommy are soooo much fun hehehe!!!
Love, Lacy
1.888.430.2010