Daddy's Day
June 16, 2013
Rainy day fun
June 18, 2013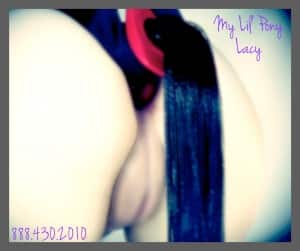 When Daddy, Uncle Mike, and Grandpa all walked in for the special  Fathers Day party I was on my hands and knees with my pony plug swaying behind me, proudly holding the bit in my mouth and waiting for their move. Grandpa was the first one to come over to me, he was smiling so beg as he pet his hand from my silky hair, down my back to my pony plug, which he twirled in his fingers. "What a good girl," Grandpa said quietly.
Uncle Mike and Daddy came over then, and then everyone was petting me! Scratching my head and my lower back, running their hands up the inside of my thighs and tickling at my swollen pussy. Even though they were gentle at first, I knew it was just a matter of time. Uncle Mike was the first one to give my pussy a good hard slap. I whinnied loudly and arched my back… and that was it.
Grandpa grabbed my face and rubbed it against the front of his pants, holding me by my hair; Daddy continued to slap and finger my pussy roughly; Uncle Mike spanked my bottom and took his cock out of his pants so he could rub it against me.
Daddy was also the first one to grab the riding crop. He had his pants down and his cock rammed deep in my pussy before I even knew what was happening! He grabbed me by my hair and rode me while he whipped me with the crop. Grandpa finally gave in and pulled his wrinkly old cock out of his pants and shoved it down my throat, fucking my face while his son fucked my pussy.
All the while, Uncle Mike was slapping me all over with his hands and cock, spitting on me and using the filthiest language I've ever heard! This is what I had planned all along… a night where they could do exactly what they've always wanted to do. Use my holes and body for their pleasure only… as a family hehe.
Love, Lacy
888-430-2010