Daddy for Sissy
March 24, 2013
Naughty Candy
March 25, 2013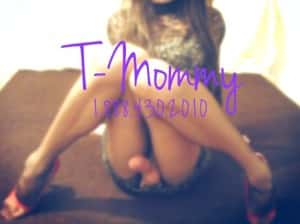 Daddy got me a BIG surprise this week. For a long long time he kept saying that he was gonna get me a Mommy – but I never really thought he actaully would!! And anyway, when he said mommy, I didn't think… well just wait a sec. So this week Daddy said that my Mommy was gonna come over so we could get to know each other.
When she showed up I was so excited!!! Daddy really got me a Mommy! And she was sooo pretty. The first thing I noticed was her great big titties, they were popping out of her dress and I could see how hard her nippys were! The next thing I noticed was her face. She was so pretty and her makeup looked perfect! Daddy almost never lets me wear makeup; only on special occasions. But new Mommy was wearing lots of makeup! Sparkly eye shadow and he lashes were thick and long, and her lips were painted bright red. I liked her lips a lot 'cause they looked like mine – dick-sucking lips, Daddy calls 'em hehehe!
Daddy said we should all go up to my bedroom so we could get to know each other. When we got upstairs Daddy watched new Mommy play with me till I was just down to the pair of panties Daddy let me wear for the occasion. She rubbed my smooth pussy lips through my panties with one hand and teased my nipples with her other hand. I was getting so wet and excited 'cause I never got to play with another girl!! When she pulled my panties to the side and leaned down to lick my pussy it made me shiver all over. Then Daddy said I should be a good girl and play with new Mommy. I put my hand under her dress and slid all the way up till I felt her panties. I couldn't believe it!!! My Mommy had a COCK!!!! I heard Daddy laugh behind me, then he told me to pull down her panties and take a peek at my tranny Mommy!! Before I could get a good look, tranny Mommy grabbed my head and pulled my mouth down on her cock!
I can't wait to play all sorts of fun games with my Tranny Mommy!!
Love, Lacy
1.888.430.2010