What Daddy Finds Out Can Hurt You
March 9, 2013
Cuckhold femdom
March 11, 2013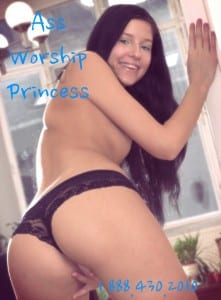 Everybody already knows that I'm a princess, and since I'm a princess that means you have to worship me. And the best kinda worship, is ASS WORSHIP hehehe!! Mmmm I just love getting my sweet round ass worshipped and played with.
Laying on my pretty pink princess bed, relaxing, while my ass worshiping playmate pulls off my panties. He starts by rubbing his hands up my thighs and over my ass cheeks. Massaging, squeezing, pinching and lightly slapping my juicy butt. Then he squirts oil on my ass and smoothes it all over. Ooh that slippery oil feels so good! He pulls my cheeks apart and spits on my tight rosebud, then uses two fingers to rub up and down getting my hole ready. Mmm he starts finger fucking my ass while he kisses and sucks on my ass!!
Ohmygosh then he starts in on my little with his tongue, eating and slurping on my ass, squeezing my cheeks together to smother himself with my cute butt. I could just lay there for hours and hours enjoying hot nasty ass worship!!
kissies, Cali
1.888.430.2010