Come On And Party
February 10, 2013
spankophilia
February 11, 2013
Special Valentine's Present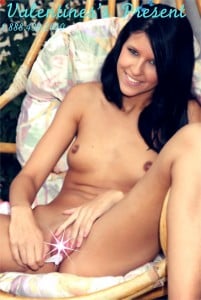 This year for Valentine's Day I have a reeaallllly special sexy present for you hehehe!! Something you can sniff and taste – some of ya might even wanna wear it! Even opening my present will be soo much fun, I promise! Can you guess what it is?!?
I'll give you some more hints… the wrapping will be soft and pink, but it'll be wrapped up pretty tight! Opening it will be really fun, but just be careful, the wrappings are delicate hehehe!  Your present will be sticky and sweet and you can definitely taste it, but you probably shouldn't eat it.
So whatdaya think? Did you guess?? Your special Valentine's Day present is a pair of my cute little panties stuffed into my pussy! Hehehe see, you have to open up my soft pink pussy lips and get those panties out! They're gonna be all covered in my sweet cream – you can suck on them, rub 'em all over your face and wrap 'em around your cock. And I know a couple special sissies who might wanna wear my wet panties once they get them out of me hehehe!!
I hope you're ready to unwrap this years special sexy present on Valentine's day – I better get ready hehe!
Kissies, Cali
1.888.430.2010