LOLLIPOP
October 4, 2012
Training Sissy Cindee: Part One
October 8, 2012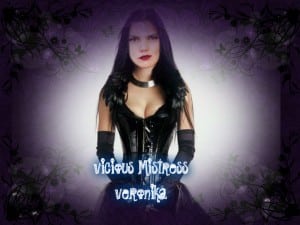 Lights are Low ,we are about to embark on a smoking fetish fantasy
There you are a scared little man in a ballgag & leather loincloth your excited cock betrays your
cold expression you think you can keep your deepest most depraved feelings away from me not a chance.
I will wrench them from you with my bare hands you will be utterly exposed for my demented pleasures. 
 I strip down to just my black silk knee-high stockings & silk bra/pantie set with my gorgeous silver heels sat in my big red chair & motioned for you to get under my heels in the kneeling submissive pose which you did excitedly.
I spread my legs so my silver heels were then on either side of you as you were down there in total submission with your head to the ground. I slipped my bra off, my breasts freed I noticed  your breathing got so much heavier as you heard what I was doing.  I leaned down with my bare breasts pushed against your back and I lifted your face and lit my black death clove cigarette then blew the smoke into your face. You moaned in satisfaction I held your face and softly said "You want more of that smoke don't you?" You nod your head I looked at you smiled and dropped your face then blew the smoke across your back.
 You can't always get what you want in my playroom.
Smokey Vicious & sexy
Mistress
Veronika