50 shades of femdomplay
March 25, 2013
Easter Pegging?
April 2, 2013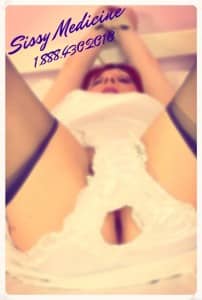 I often get mommies in my office bringing me their sissies for one reason or another. Whether it be help with stretching their sissy pussies for use, assisting in an enema, or just a regular old sissy check up, its always such a treat visiting with other mommies and joining them in playing with their sissies.
Now this last time a sissy was brought to me it was because she wasn't accepting her place. And every mommy knows that a sissy must know her place or suffer the consequences. This mommy told me that she had tried absolutely everything she could think of, spankings, public humiliation, ass play, she went on and on, and nothing seemed to work. I could see her concern and I reassured her that together we would break the sissy down. The solution came to me quickly, all this sissy needed, was a very large and strong dose of sissy medicine. Together, her mommy and I strapped her down on her knees and locked her into restraints as men started filling the room. Three gentleman approached the sissy, cocks in hand and grabbed her by her hair, forcing her mouth down on their poles.
Handing my friend a cup of coffee and sitting down next to her I explained, "It's something about cum, it just subdues their masculine thoughts and any other undesirable behavior. You're right though, she's a tough one, it'll take buckets of cum to get her in line." Luckily we had dozens of men ready to the naughty sissy her medicine. I suggested she bring the sissy in at least once a month for the treatment. Laughing, she agreed and we relaxed in our seats, watching the sissy's mouth be continually assaulted.
Betty
1.888.430.2010