A Virgins First Time with Step Daddy Fantasy
March 28, 2012
Adult Baby Phonesex With Mommy Star
April 2, 2012
Sci-Fi Fantasy Phone Sex With Lauren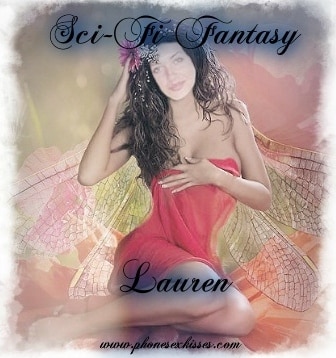 Some of the most unique Phone Sex Calls that I have done, revolved around different types of Sci-Fi Fantasy Phone Sex role-play.  One of the reasons that I love this type of role-play is there are no limits to what you can do, or say when in the role-play.  Plus, the whole Sci-Fi Fetish is so vast. It ranges from Giantess play, to Robot, to Mythical Creature role-play.
I understand that this makes me somewhat of a phone sex Geek, but that is okay.  I am a little weird to begin with.  I choose the photo I posted within this phone sex blog for a recent client.  I was the Queen Pixie; and if you know anything about Pixies that although they are lovely, they can be down right bitchy; and I found him in my wood injured.  I lured him back to our Pixie Land where he wound up being Dominated by Me.
To do this sort of role-play properly, I like to have the person email me with any details, or the story they want to role-play. As many of you know who are into the Sci-Fi Fetish, there is a great amount of detail involved, and proper planning is required on my behalf to get into character, and give you the Ultimate Sci-Fi Fantasy Phone Sex  Call that you so rightly deserve and long for.
Lauren
888.430.2010