Kinky Fun With Young Jenna
September 24, 2012
Fantasy Girl
October 1, 2012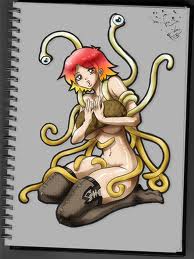 I'm that sexy alien with 3 tits and 2 clits. I am the fembot, programmable to your every fantasy, every desire. I am the fair maiden being taken by the tentacle monster, slithering limbs over every part of my body, searching out my tight, wet waiting hole. I am the sci-fi fantasy queen and I can be whatever you want. I know you geeksters out there have sci-fi fantasies that no on else can understand. Where they would only laugh, I would indulge because I have them too.
Hentai dreams and fembot screams. I know what it is that you crave. That dripping wet alien girl pussy with the double clitoris. More firm tits than you have hands for. Maybe you dream of the ultimate woman, one that has the outrageously curvy body, one that you can program to fulfill your deepest taboo desires. I can be all that and more. I can be whatever you want, need, desire and crave.
Like you I have been a sci-fi lover and con girl from way back. My particular favorite fantasy girl is an elf. But the thought of  being a fembot that has to do whatever her master programs has a real turn on for me. No choices, just what the master wants. Or slick hot alien bodies, bright colors, outrageous positions. It all appeals to me. So many fantasies. We can be whatever we want, do whatever we want. Our only limits are our imaginations and mine is limitless. What about yours?
Call me and let's see where I can take you. What world we can find out there and how can manipulate it to our pleasure. Do you share my sci-fi fantasies? I would love to hear what you can come up with and expound on it.
Josie