The Father's Day Party
June 18, 2013
Bound and ready to serve
June 19, 2013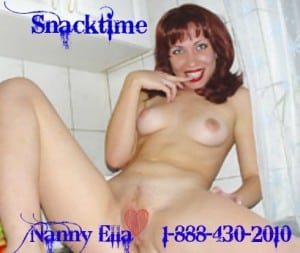 Nanny has been so busy with her ABies in the nursery today.  With all the rain we've had, it's been nothing but indoor activities for a long time, but we're finding lots of fun games to play.
After a full morning of lessons, a good lunch, and much-needed naps, I hear my little angels beginning to awaken and stir around.
I've been in the kitchen warming up a very special snack for my most special ABy.  Yes, you've done your lessons so well today and been such a good helper to Nanny that I have a special treat for you.  While the other sit in their seats at the table, you will be Nanny's assistant.  You will do everything I say without question and with a smile on your face.  If you don't, then it's back to the classroom we'll have to go!
Now, show the class how I taught you to spread my sweet pussy open and make me happy.  That's right darling, gobble Nanny all up.
Naughty Nanny Ella