Fetish Nails Mistress
March 5, 2012
Poor little ABDL BITCH!
March 8, 2012
Mistress Crissy's sexy time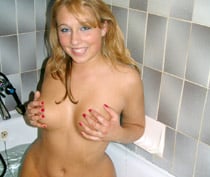 Mistress Crissy's  sexy time was in full effect I was with my lustful friend Ben he just gets right into the fantasy of giving up his will to me and  I was so into the scenario we played out I had to cool myself down afterward.
The night started with us in a downstairs darkly lit bedroom and I told Ben to lower himself to the floor on all fours.
He promptly answered with "yes mistress."  I then mounted him rode on his back to the long mirror at the end of the room I told him to look up and worship the image he saw of us.
He looked up and shivered from the pleasure it gave him to carry me on his back like the good little horse he is.
Ben said "Mistress,you are my queen up there ."
I slid off his back and told him to rise to his feet then I led him upstairs to the kitchen and made him turn his back
and as he did I opened the drawer next to the sink and pulled out a wooden spoon.
I told him he must not look on his mistress and I took the spoon and trailed it down his back slowly.
"Permission to moan Mistress?" He asked and I replied "permission granted."
I went over to the freezer and got some ice out and slipped it under his boxers and listened with delight as he moaned under his breath.
It is time for us to go get you clean now.
I led him into the bathroom and leaned him over the bathtub let the water run and got into the tub and faced Ben as he leaned over the tub with his knees on the floor and I rolled down the front of my corset so my breasts were in view and I told Ben to worship my nipples.  so he took each one in his lips and gently caressed them with his tongue and lips.
He told me my skin was so soft and his mistress tasted like strawberries.
"You please your mistress" I told him.
Have  all the naughty time you can handle with me.
Text sessions available .
1*888*430*2010