Foot puppy slave
August 26, 2012
Shopping Time With Mommy Candy
August 27, 2012
Lacy and Daddy's Bed Time Routine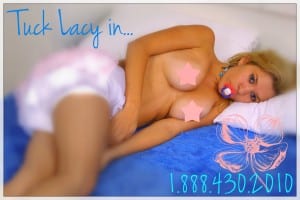 Every night before I go to bed, Daddy gets me ready. He calls it Lacy and Daddy's bed time routine. First he makes me my bed time bottle. Daddy always makes my bottle just right, never too hot or cold. Daddy lays me in his lap and rubs my tummy while he feeds me. I love the way his hands make me feel safe and warm. Once my bottle is all gone, Daddy takes me to my changing table to put a fresh diaper on me.
On the changing table, Daddy rubs me with my favorite baby lotion. His big hands feel so good as rubs my bottom and smoothes the lotion against my sensitive lips. Daddy lets me pick which kind of diaper I want. My favorite ones are pink with white polka dots. When Daddy has me all diapered up he holds me in his arms so he can get me into my sleepy time onesie. It's fuzzy and pink and has cute little hearts all over it.
Then we go over to the big bed, where Daddy wraps me in his big strong arms and I curl up. I snuggle my face into Daddy's neck and he gives me soft kissys on my hair and strokes my back. Daddy tells me what a special ABy I am and tells me I'm his special pretty girl. I fall asleep happy, knowing Daddy will be there to take care of me and play with me when I wake up.
Lacy and Daddy's bed time routine is so much fun… I look forward to it everyday!
Lacy
1.888.430.2010