Cheers!
August 9, 2013
Used
August 14, 2013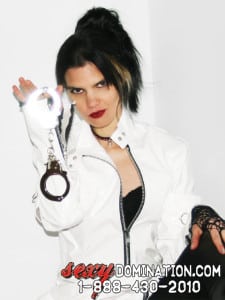 You arrive and immediately I walk into the main room of my 
bdsm dungeon there you are staring at me thinking how stunning and vicious I look.
"You are late and for that there is consequence's that you will have to endure!" I said vehemently.
"Mistress I tried to get here as soon as I could but I had no choice I could not get away from the business I was handling,
please have mercy on me?" you said pleading with me.
"I think not." was my reply and I motioned for you to get on your knees. You complied and I undressed you 
after you were naked and vulnerable before me I restrained your wrist's and leaned you on the spanking bench.
"You will no longer be allowed to speak unless spoken to and never,ever will you be late to our session again is that
quite clear?"  I explained and you nodded with a small "Yes, mistress I will behave I swear to you."
I took my leather cat of nine tails and slowly trailed it between your leg's and when I was directly above your
hard cock I gave it 6 good hard spanking's.  
"Next time I will not be so nice I promise you!" 
Veronika