ABDL MILF Phone Sex
September 17, 2012
Foot Fetish
September 19, 2012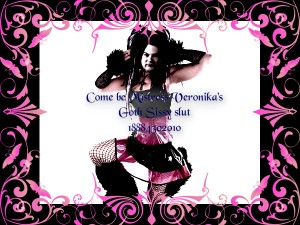 I am the Mistress of darkness & depravity I get into making my goth sissy slut do all kinds of dirty things.
First I make sure my sissy has none of his boring everyday clothing ,we get him dressed in the sluttiest
most tight ,see through clothing I can find. Then we place a sexy multicolored wig on his head to hide the 
growing bald spot on his pathetic head add a pair of fishnets and some nice silky black panties ,my goth sissy slut
is ready for his dirty little sissy slut night out. Mistress V know's all the best haunt's for a goth sissy slut to sew his 
sissy oats we will say so with my sissy on a leash we walk into the dark ,shadowy confines of one of the most lascivious of all these clubs the sign is black and etched in silver it reads Immortal.  My sissy slut & I walk into a very crowded darkly lit dance floor with a hallway of rooms to the left of the entrance. This is where I lead my little 
leashed slutty sissy. We walk  into a small bright room that has lavish decor and a camera pointed toward the large bed & I commanded my sissy to kneel on the bed.  We waited there for a few minutes then the door opened and  a well dressed man entered and placed his briefcase next to the bed & opened it inside were various lipsticks and dildos of many sizes he selected a black lipstick and motioned for sissy to put the lipstick on, he turned the camera on,Then he started to undress and sat next to my sissy slut. My sissy looked from me to the man. The man pulled my slut close to him and motioned for the sissy slut to suck his hard cock. My sissy did as he was bid & I administered some very harsh bdsm caning to his already red bottom. That sick ,depraved goth sissy slut earned his way in that club. 
So wonderously vicious your Mistress,
Veronika 
1*888*430*2010