Real fetish phone play
March 10, 2014
Address me as Mistress Mommy Lauren!!!
March 22, 2014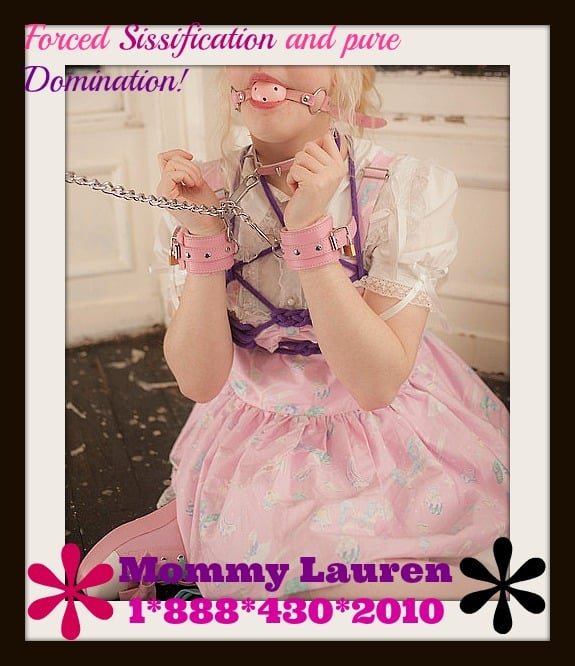 My sweet boy… I was told you have a thing for girl clothes. So tell me is that true? I demand you to answer me at once! So, you're not going to say a word? Did I not demand you to speak, if you are not to speak a word from your mouth then I have no other choice.
I grab you by your wrist, I take you to the den. I tell you to sit your ass down right there in middle of the room. You are not allowed to move from that place. I come back with a rope, a gag, and a nice pink floral dress with a white blouse to match. I force you to wear these with no questions asked. Put them on, now! You don't want to cooperate, ok, I rip off all your clothing straddling you down on the ground. I then slip the blouse on you then slowly slip the dress on as well.
Well now you look absolutely ridiculous, but in a sense you are adorable. So I guess from now on you will be address as her. You will be my sissy servant. You will only be allowed to do as what you are told. Now let me put this gag on you, then tie you up in this rope. "Oh, how much fun I am having with you."  I then attach a leash to you, now come my sissy servant follow me. I take you to the room and have my way with you. I pleasure you till you can no longer take. You are at the verge of Cuming but I will not allow. So this feels good to you? Do you want to cum? I will allow such only on one condition. In order for you to enjoy the pleasure by ejaculating the cost will be 3 months of being tied, shackled to the bed, you will then be tormented with pleasure for exactly 3 months, but I will not allow for you to cum. So for the price of your pleasure now, do you want to proceed? So you do… Alright cum now, I demand you cum all over your mommy's wet pussy you sissy servant girl. Explode your cream all over my body then I demand you to lick me dry. 
Mommy Lauren
18884302010