sci-fi fantasies
September 29, 2012
LOLLIPOP
October 4, 2012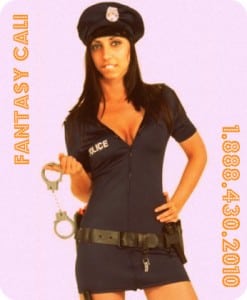 I love a good old fashioned classic fantasy! I've been thinking about what I wanna dress up as for Halloween and I found this really sexy little police costume… it got me thinking about those fun, classic fantasies. You know, teacher/student, office secretary, and naughty police officer. It can be so much fun to play those naughty fun games!
A couple of days ago I got a call from a sweet guy named Rick. "So what are we gonna do today Rick?" I asked him, running my fingers down my body, and teasing my pussy through my panties. "I was thinking we could do whatever you wanted to do…" I giggled, "Oh, really?" I got up from my bed and walked over to my closet where my sexy costume was hanging. I touched the shiny handcuffs, "Well, I think I have an idea…"
I could picture it all in that moment… wearing that hot costume, handcuffing sweet Rick in my special police station and using him to pleasure me in any way that I want. Riding his face, riding his cock, giving him his punishment for whatever silly crime I make up.
At one point I had Rick handcuffed and bound to a bed post, bent over, getting ready to push my thick 10 inch dildo into his tight ass. "Aren't you glad you left the choice up to me today?" I asked with a smirk. I hope I get another classic fantasy soon, although you know me… any fantasy sounds good to me hehehe!
kisses, Cali
1.888.430.2010