Mommy's got a dirty, dirty secret!
June 6, 2011
tgirl cock sucking
June 16, 2011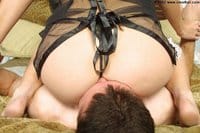 You've served just about every purpose I can think of for a slave to serve. Now that you've done all that I ask you're going to be rewarded with being smothered. I'm going to bind you down securely on your back and smother your face in my ass and my pussy. I want to see you struggling beneath me and hear you gasping for air. I want to feel you licking and sucking feverishly trying to satisfy me so that I might move and allow you to breathe something other than my wet warm pussy.
What you don't know is that it's more than an orgasm that I want from you slave. I want to fill your mouth with my warm fresh piss and then I want to feed you from my ass. You do those things, take that for me and I might bend you over and plow your fuck hole. Then again I may just lock you in chastity and leave you in the bathroom to be used as a toilet from now on.
Mistress Veronika
1-888-938-7382
female domination
toilet slavery
and much more