Little Clitty Losers
February 15, 2013
Naughty Lacy
February 24, 2013
Erotic Adult Breastfeeding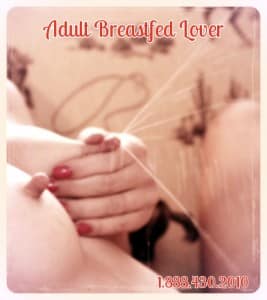 The first time I experienced adult breastfeeding I had just finished looking after an adult baby for the day. Now I don't count adult baby nursing as adult breastfeeding, of course any sensation of having my nipples sucked or manipulated gets my panties a little damp, but ABies tend to just nurse. I mean they don't get too carried away suckling on Mommy, they just fill up their tummies.
On this particular occasion I'd had the ABy for most of the day; I'd been running a daycare of sorts from my home. This little one didn't take a nipple, he was strictly bottle fed, so of course my breasts were fully swollen with milk. When his daddy came to pick him up, he was fast asleep in the nursery and I was in the sitting room, my dress down around my middle, fussing with the breast pump. As soon as I saw him I recognized the look in his eyes immediately.
"Miss Lizabeth, excuse me, I knocked…" Try as he might he couldn't look away from my full tits, my swollen nipples.
"I can't get the damn pump to work, maybe you could give me a hand here."
I didn't have to ask twice! In seconds he was across the room on his knees in front of me, take breast in his hands and nearly swallowing my nipple. I moaned feeling my milk begin to drain in his hungry mouth. It wasn't long before his hands were sliding between my thighs and up my dress. When his fingertips grazed my pussy lips I immediately pushed my hips down to fuck myself on his hand.
He finger fucked me to get me ready before I took his cock in both my aching holes. All the while his lips stayed latched to one of my nipples, a hand always working which ever nipple was free, squirting milk between us.
Since that first experience with adult breastfeeding, I just can't seem to get enough… I just neeeed to have my nipples suckled while I get fucked and filled by a man.
Lizabeth
1.888.430.2010