Rainy day fun
June 18, 2013
Sexy Phone Calls
June 22, 2013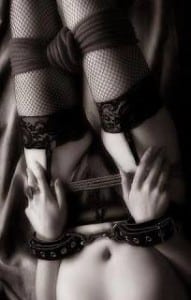 There you are Bound and ready to serve  I look down at your soft and pliable flesh,
with the most devious plans dancing in my mind. "You would do anything for your Mistress
right?" I ask softly . You nod and wait for what is sure to come next. 
I put the nipple clamps over the candle flame and wait til they get warm, then I clamp them on to 
both your hard nipples and listen with excitement as you moan. I wait for a few seconds then I pull gently  at first
on both your nipples then harder and listen as the moans turn to screams of lust.
Oh you should save your voice my dirty little pet it will be a long night, wickedly laughing I pull your panties up and twist your shaved pussy.
Maybe next time you will not be so ready to serve.
Veronika