Cuckold Mommy Star
July 16, 2011
Wanted: Submissive Boy
July 31, 2011
Adult Baby Diaper Humiliation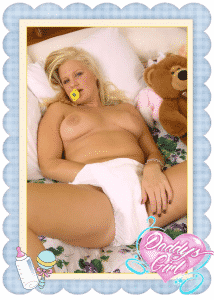 I'm ABDLBetsy and I love being a naughty adult baby and making messes in my diaper.  Sometimes my ABDaddy gets mad if I don't make it to the potty and I go in my diapers.
My ABDaddy punishes me by making me wear my full diaper all day, and sometimes he even takes me out in public, where everyone can smell my stinky diaper and they point and laugh at me.
Sometimes my ABDaddy changes me in public where everyone can see what a big mess I've made in my diaper.  Do you love diaper humiliation?  Do you like being sweet-talked and regressed back to being an adultbaby?
My ABDaddy spanks my bottom and puts me in time out and makes me sit on the adultbaby potty till I make a big number 2's for him.
ABDLBetsy
888*430*2010
International 714*442*2402