a little cbt in the new year
December 31, 2012
Shaving Sissies
January 7, 2013
A different kind of therapy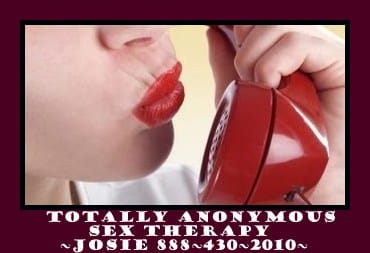 Do you have a kink or fantasy that you are afraid or ashamed to share with someone in your life? Afraid your wife or girlfriend might laugh or worse? Why not share those fantasies with a woman who not only understands but will also enjoy them as much as you do.
Phone sex can be alot more than an easy way to get off. You can share your deepest desires, completely anonymously with a beautiful woman. I will not only help you explore your fantasies, I will take them further. Blowing your mind as well as your load in ways you never imagined.
You can also gain greater intimacy on the phone. You will feel more comfortable to open up and talk about things you could never say to someone face to face. I have no taboos or restrictions. i am the original and true taboo phone sex girl. There is nothing that will disgust me. There is nothing you could say that I would ever want to ridicule you for. And I promise that I will get just as turned on and enjoy our session every bit as you will. I love to explore and learn about human sexuality, fetishes and kinks.
So go ahead, take a chance, pick up that phone. I think you will be pleasantly surprised how good it can feel.
Josie
888~430~2010